"If you get the opportunity to do this course, I'd absolutely urge you to do it… It's really changed the way I work and how I feel about my practice."
Our (FdA) in Therapeutic Work with Children and Young People is the only course of it's type in the country.
Run by The Mulberry Bush and validated by UWE Bristol – this is a unique opportunity to build your career and confidence, as you specialise in working with children who are vulnerable or have experienced early-life trauma. 
You'll explore everything that goes into developing a therapeutic relationship with a child or young person, and develop the varied, practical set of skills needed to improve outcomes for children, young people and families, as you move forward as a reflective, highly sought-after practitioner.
Why study therapeutic work? 
This two-year foundation degree covers all the theories underpinning trauma-informed practice. You'll learn about everything from theories and children development, to the deeper internal workings of children's (and adult's) brain processes.
Most importantly, you'll have ample opportunity to apply the theory to your own practice, as you hone your skills and confidence in your day-to-day work with children with social, emotional and mental health difficulties.
With a growing need for specialist practitioners in this area, our graduates are highly sought after for wide-ranging roles across education, social care and health.
"If you get the opportunity to do this course, I'd absolutely urge you to do it. It opens up different avenues for you to take it into different settings, not just with young children. It's really changed the way I work and how I feel about my practice."
Sharon, recent FdA student
Why Study with Mulberry Bush / UWE?
This course is the only one of its kind in the UK delivered by a therapeutic care organisation but that's also accredited by a leading university.
The Mulberry Bush is well known, and highly respected, in therapeutic working with children, young people and their families. We've been around for 75 years, and the course is informed by the day-to-day work of our school, as well as the latest research.
All our tutors have lived experience of working in this field, and the course is firmly rooted in practice. As a work-based learning degree, you'll apply what you learn to your own work, and bring back your reflections and insights for the cohort (and you) to learn from.
As an experiential course, there'll also be plenty of opportunity to explore your own responses, and develop greater insight, resilience and confidence.
You'll go away with an FdA qualification accredited by UWE Bristol, one of the UK's leading providers of therapeutic education.
The course is the equivalent of a Level 5 qualification, so you'll be taking your skills one step further than the statutory Level 3 requirements, to help you stand out when you're going for jobs.
This course is particularly relevant for you if:
What else you can expect?
Everyone you study with on this course will be working with children and young people.
You'll get to learn alongside practitioners from different settings, with people who all have a shared interest in improving care and outcomes for children.
We purposely keep the cohort to around 20 students in any one year.
Our small class sizes mean you can look forward to highly personalised, interactive teaching – and plenty of time to develop trusting, supportive relationships with each other and your tutors.
This is an emotionally, intellectually and academically demanding course.
There's a lot to learn and cover. But rest assured we'll be there to guide and support you as you move through the course as a skilled, highly resilient practitioner. Equally this support does not finish when you graduate, we'll be here to support you every step of the way as you start this next chapter in your life.
"Before I completed the FdA, I would leave school at the end of the day feeling stressed and grouchy. Since the course, I have been able to apply the learning, to be more reflective, more thoughtful and to gain a deeper understanding of others. The qualification gives you a different outlook on WHY someone behaves in the way they do, so you can tailor the way you work with them with that in mind."
Laura, recent FdA student
Where can it take me?
By the end of your two years with us, you'll be qualified to Level 5 (exceeding the statutory requirement of a Level 3 qualification in the children's sector). With a foundation degree qualification under your belt, you'll be in a strong position for working at managerial level in a childcare or education setting.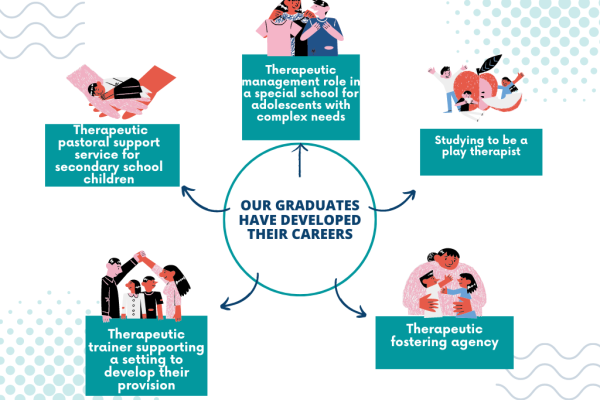 The course is the equivalent of a Level 5 qualification, but it covers off the mandatory Level 3 Diploma requirements that all childcare practitioners need to complete (so you won't need to do that separately).
If you wish, you can add on an extra year of study to gain a BA (Hons) in Professional Practice through UWE Bristol. You could also choose to take your skills into another area of therapy, teaching or practice.
Benefits to your organisation
Studying our FdA in Therapeutic Work with Children and Young People also has benefits for your employer.
With better trained staff, they can: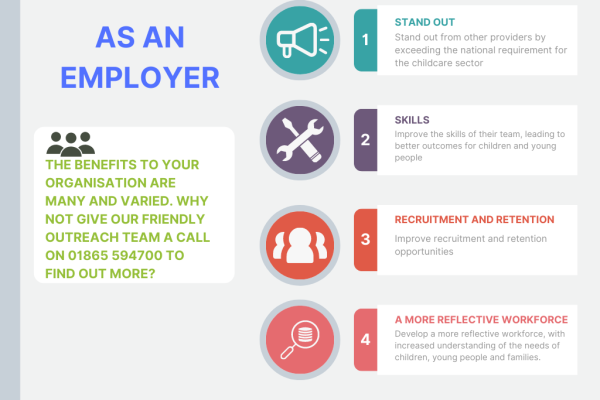 We're so confident in the benefits this course will provide, we would happily talk to your employer about funding opportunities for your training, Why not give our friendly Outreach Team a call on 01865 594700
Entry requirements
This is a work-based learning course.
You need to be working with children for at least 16 hours a week (paid or voluntary) and be able to apply what you're learning in your practice.
You don't need any specific qualifications, although we may ask you to write a short piece of work to check you can write coherently at the required level.
How much does it cost? 
The fees for the foundation degree for 2023/24 are £6000.
If you haven't accessed student funding before, you can apply for funding through Student Finance England.
We can also arrange for your fees to be paid in termly instalments, for more information about this please get in touch by emailing Angela at [email protected].
Some employers are able to fund your training. We may be able to offer discounts for multiple bookings if they choose to enrol more than one member of staff at a time in the programme.
How to apply
Applications for 2023/24 are now closed. Please contact Angela Brown – [email protected] if you would like to be added to the mailing list for next year.
Princess Royal Training Award 2021
We're proud to achieve the Princess Royal Training Awards for our Foundation Degree in Therapeutic Work with Children and Young People. This award is for our commitment to training and development in 2021. You can find out more about the awards here.